Time to introduce my favourites, Holy Grails etc.
Base:
Mac paint pots:
I have Artifact, Painterly, Greenstroke, Moss Scape and Blackground, and I love all of them.
Blackground is awesome, if you want to make color deeper and darker.
Painterly is basic base, good for anything.
Moss Scape works with greens, it really makes the colors more intense.
Greenstroke is great for light metallic looks.
Artifact brings out amazing shades with purple shadows, especially with MAC Parfait Amour.

Eyeshadow:

Mac Off the Page:
I love this. I haved found anything like this. This is IMO unique, frosty goldish orange. I'm already sad that it'll end some day :D
StarsMakeupHaven Over the Moon:
This is also amazingly pretty, goldish yellow orange. Really unique shade.
MAC Cranberry:
This is one of my alltime favourites. It goes well with almost everything, it's really easy to use and it suits very well with my eyecolor.

Mschic Mineral Black:
Perfect matte black, which is really easy to use.
Highlight:
StarMakeupHaven Bee's Knees:
Wonderful highlighter. I actually like this even more than MAC Vanilla pigment!
MAC Polished Ivory:
Love this one too. It's just perfect matte highlighter.
Mascara:
Max Factor False Lash Effect:
This is the only mascara that works with my tiny lashes. It's quite cheap, available almost anywhere and it works. What more could I ask?

Brows:
Wet'n'Wild Brow Essentials kit:
I did my brows with a pen for long time, untill I found this. Combination of the colors work for me, and the wax does it work when I use it.
Eyeliner:
Wet'n'Wild Megaliner
It's cheap, and it works well.
Foundation:
Revlon Colorstay:
Best foundation I've found. Covers amazingly well, easy to use (exept the bottle, which really needs a pump!) and leaves almost flawless result.

MAC Mineralize Skinfinish Natural
: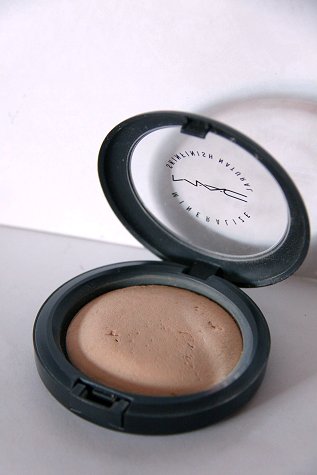 I have to say this one, because this one is a bit better than the MAC Studio Fix one.

MAC Blushbaby blush:

I'm really not a blush user, but this is great for everyday use! It's almost a combination of contour and blush.
Brush
:
Sigma SS239:
This is absolutely my favourite brush.
I have no experiense of any MAC brushes or anything, so this is only my opinion :D
I can do my whole makeup with this brush is needed.
I think that's it. :)